Razer Huntsman Mini Keyboard Review
Full Disclosure: This keyboard was purchased with my own funds, all opinions are my own, and no one reviewed this content before it was posted.
The Razer Huntsman Mini is a 60% mechanical keyboard with clicky tactile switches. This means that the keyboard only includes the letter and number keys, and other keys must be accessed via the use of a function key. Clicky tactile means each key makes an audible click when pressed and that you can feel when it has activated.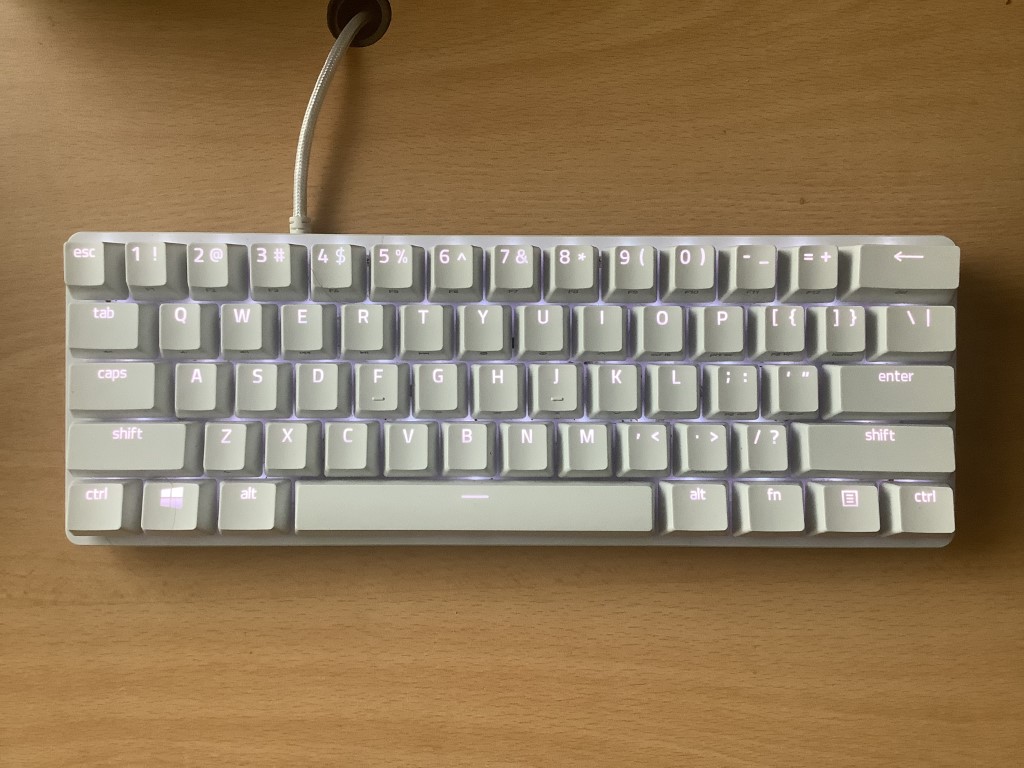 Appearance
The keyboard comes in either mercury white or black. I went with the white version. It is sleek and slim. Rather than being enclosed concave in the keyboard base, the keys come directly out of the keyboard base. This does make it more difficult to hide dust and debris but also makes it easier to clean.
It lights ups and each key can be assigned a different RGB colour using Razer's Chroma Studio software. A variety of different effects can also be assigned such as a rainbow effect, colors constantly changing and keys changing colour once pressed where they kind of radiate out from your finger.
Feel
The keys themselves are made of PBT plastic but the labels are doubleshot, so we shouldn't expect the key labels to rub off easily which is nice. The keyboard has a nice weight and is solid. It also has a detachable braided USB cable, so you can replace that if it gets worn or you wish to change it out / swap devices.
Key presses are satisfying with a nice firm precise click. You don't need to bottom out the keyboard and each key makes a noise once it is activated so you know exactly when to release your press.
Noise
This is my first clickety keyboard. My previous was tactile only - Filco Majestouch Cherry MX Brown. I was expecting it to be much louder but since you are not tempted to push keys down so far, the noise is only slightly louder. It might annoy your room mates / family but is unlikely to be a problem in an apartment unless you still insist on bottoming out.
So Little Keys
The missing keys are a little bothersome. I mainly miss the arrow keys. Yes, I can access them using the function layer key and they are fairly logically placed but I am yet to master their use. I keep wanting to move my hand to where they normally are and then end up in a weird unnatural contortion with my thumb rather then using my pinky to press the function layer key. I am sure I will get used to it but it is quite the change.
Final Thoughts
It's a good keyboard though the cost is a little much for what you get - it's still common to see even basic keyboards come in for over $200 but there is now a solid range of $100-150 keyboards that even come with such features as wireless.
Still if you want a small, compact, but well featured RGB 60% mechanical keyboard, you can't go wrong with the Razer Huntsman Mini.6